A robot butler can't be a bad thing, can it?  After all, we would all like to be waited on by a servant, especially one that can be shut down if it gives you any problems. So, just make sure that it can be turned off!  This is not a new robot, in fact the machine made its debut at Carnegie Mellon University back in September of 2009.  You can go back and look at the story done here on RobotNext about this snackbot.   Also, follow the links below to see the article from the guardian.co.uk by Charles Arthur.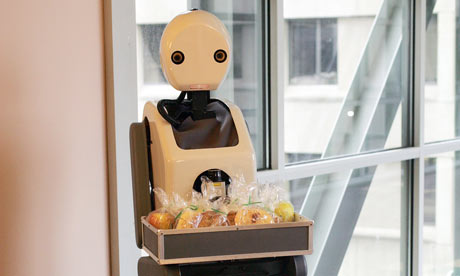 Credit:  Guardian.co.uk|The Observer
"The robot butler has a long and frequently chequered history. From    Robbie the Robot in Forbidden Planet (who could bring a nicely shaken  martini) through to HAL 9000 in 2001: A Space Odyssey (which served  food via a hatch, then later killed you), the idea that there must be a  better method of getting refreshments handed out than making a person  push a trolley is one that just won't go away."